Coconut Charcoal Briquettes Packaging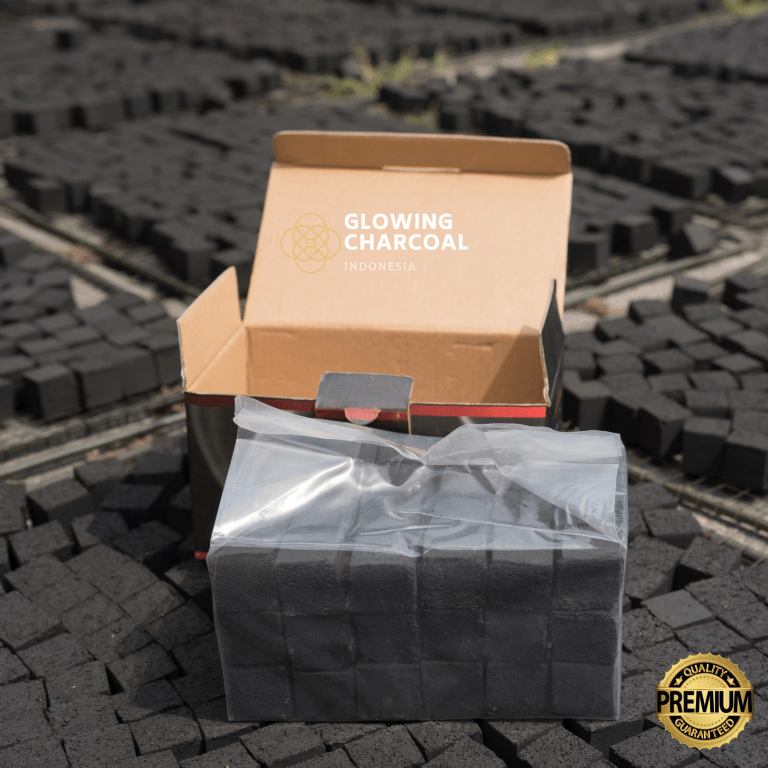 THE CHARCOAL SHAPES
In this page we will discuss about Coconut Charcoal Briquette Packaging. Coconut charcoal for shisha & hookah produced in form of cubes. The most common sizes are 25x25x25 mm and 22x22x22 mm. There are several other forms of briquets like round, flat and hexagonal. First of all, 1 kg of coconut charcoal contains 72 cubes of charcoal. Standard packing is the inner box with 1 kg full-color printing on carton paper (230 gr paper box) without laminating. Inside the box is a transparent plastic cover for charcoal cubes. Each 1 kgs box is packed inside the Master box. Hard carton (2-3 layers carton) box. One Master box contains 10 kgs coconut charcoal
Coconut charcoal is shipped by sea in 20" feet containers. One 20 feet container carries 18200 kgs of charcoal or 1820 Master Boxes without pallets. If you are planning to use pallets – one container can feet with 16500 kgs of coconut charcoal or 1650 Master Boxes on pallets. Pay your attention that the cost of pallets is paid by the buyer.
The design & layout of the inner box is usually done by the buyer. Buyer design inner box brand, color, and size. The charcoal factory does not print o design by itself. All printing for charcoal packaging is done in local offset printing. 
The cost of printing for the charcoal inner box in Indonesia is from 1 to 1.5 USD per kgs. The buyer can also order coconut charcoal without inner box. In this case, charcoal will be packed in transparent plastic + 10 kgs Master box. Buying charcoal without inner box can save you 1820 dollars per 20" feet container.
Please be ready that printing of inner boxes takes about 5 to 10 days. Do not delay sending inner box design to the charcoal factory. Packing into the inner box also takes 1 to 2 days.
We do not recommend you to stuff container with charcoal on pallets. Pallets consume a lot of space. Without pallets, you can load 1820 boxes, with pallets only 1650. So you lost 170 boxes of charcoal for nothing. Also, the factory has to provide a fumigation certificate and stamp pallets (if pallets made from wood). On the other hand, with pallets, it is easy to unload charcoal boxes from the container at your warehouse.
THE INNER BOX
The size of the inner box for coconut charcoal may vary depends on the size of the cubes. Average size is 108 x 98 x 150 mm.
Printing is done at a professional printing company. Pay your attention that if you print "block" color, for example, all black or all grey – it is good to have to laminate (additional cost of 25-30 USD per tone) and do double color printing. It means that the printer has to print the background color of the box 2 times.
Before packing coconut charcoal briquettes into inner box your factory have to put it into inner plastic. Inner plastic protects your charcoal from humidity and dust. Also, it helps to keep briquettes organized well. There are different types of coconut charcoal inner plastics available. You can print your logo design on it.
Additionally, Strapping is important to secure transportation. If you deliver coconut charcoal to Europe or the USA – is ok not to use strapping. But if you are planning to bring the container with charcoal far from a port. Use a lot of trucking and restaffing – it is strongly recommended to use strapping. Strapping secure charcoal boxes position, so it would "run" inside the container. Cost of strapping is 8 USD per tonne.
Labeling for boxes. 
Many countries request labeling for boxes. Most charcoal factories provide labeling for free. If the label is in full color we charge 9 USD per tonne. Buyer sends label design and we print it & put in on the boxes.
Master boxes for coconut charcoal briquettes are very important. There are 2 main types of master boxes: single wall and double wall boxes.
Double-wall master boxes are stronger but cost about 60$ more per tone. than a single wall box.
We do OEM production and will produce briquette under your brand & packaging design. Don't worry, we ensure that the privacy of your brand will be protected. Send us your design of packing and we will print it for you. Coconut shell charcoal briquette for shisha and hookah are packed in the following ways:
Master box (10 kg box from the hard carton, chocolate or white color) + Inner box (Brand box) of 1 kg with full-color printing and buyers brand on it + inner plastic to keep charcoal safe.
Master box (10 kg) + inner plastic of 1 kg each.
Based on your request we are able to provide different types of packaging for charcoal briquettes.
– Inner plastic 1, 10 kg (brand printing)
– Inner Box 1, 2, 5 kg (full color, laminating, emboss)
– Master box 10, 20 kg (single wall, double wall, b/w, full color)
Please
contact us
to discuss your packaging requirement